The Fiat 850 Garage
In production from 1964-71, this Fiat design was made to replace the 600.

A great car owned by Paul Phillips who wrote:
"Given to me in a right old state, I restored it and modernised it. It is surprisingly standard, but has a homemade double wishbone suspension setup, sport engine with highlift cam, and tubular manifold. I have a Lancia Integrale as my evryday car, but the 850 is far more fun!
I will never sell it! Keep motoring!"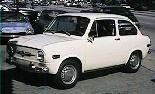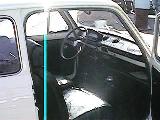 My wife downloaded these from somewhere.
Please email me your 850.